Charles is a partner and heads up the Commercial team. He qualified in 2010 and specialises in commercial property transactions and advising businesses and their stakeholders on a range of corporate and commercial matters.
Charles acts for landlords and developers with their transactions, both locally and further afield.  He has particular expertise in commercial lease negotiations, and is regularly recommended by commercial agents to prospective tenants to handle their office moves and lease transactions.
Charles regularly advises on share and business sales, and other corporate matters such as shareholder agreements, share issues, and company administration.
Clients have referred to Charles as "efficient in terms of advice and speed", "easy to work with", "creative", and as having communication levels of a "high standard".
Charles won Property Lawyer of the Year at the Surrey Law Society Awards 2022, is part of the team that won Property Team of the Year at the Surrey Law Society Awards 2023, and has been ranked in the Chambers & Partners Guide 2024.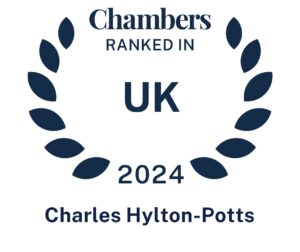 Charles studied Business and Management at the University of Exeter, graduating in 2002. He took the Graduate Diploma in Law and then the Legal Practice Course at BPP, London.
From 2006, Charles worked in large City firms, then trained with a regional firm and qualified as a solicitor in September 2010. Before joining Peacock & Co, Charles developed his practice at firms in the West End.
He became a partner in April 2017.
Every time a completion is achieved, thereby fulfilling the client's objective
Handling a £25,000,000 finance transaction comprising multiple facilities and security over operating business and property portfolio
Acting for a tenant taking a 15-year lease near Liverpool Street Station at an annual rent of £835,000
Handling an intra-group assignment of four leases from an acquired subsidiary to one of the world's largest public companies
Acting for a tenant on complex lease negotiations relating to Spitalfields office premises at an annual rent of £475,000
Advising a tech start-up on an accelerator investment (equity and convertible debt) and $1.5m seed investment round
Charles grew up in South West London and lives locally in West Wimbledon. He is kept occupied by his two daughters but he also enjoys trying different beers, and watching England play at Twickenham.
Charles is a director of the Merton Chamber of Commerce and on the committee of the Wimbledon Village Business Association.
"Charles showed a genuine interest in us and our business when he was engaged on the conveyancing for our new studio in Shoreditch. He liaised with multiple stakeholders at our parent company in India, along with the landlord's team, our fit-out contractor and our local team. As well as negotiating on our behalf with the other side, Charles also had to work hard to establish consensus amongst our internal teams too."
"Charles has given me tremendous support over the course of preparing five commercial leases and all the associated documentation and compliance. He has always made himself available giving worldly advice and is extremely prompt and diligent in all the dealings I have had with him. A huge thank you to Charles."
"Charles helped me to negotiate the lease on my shop and it was great working with him! He works professionally, diligently and gets the job done. I'd even say he went above the port of call for me a couple of times! Highly recommended!"
"Having dealt mainly with Charles Hylton-Potts on commercial property acquisitions and commercial leasehold work, I found both the communication levels and the quality of the work to be of a high standard, which is what we require from our legal representation. There is an ability to think outside the box and explain legal matters simplistically."
"I have worked with Charles on many occasions and have found his attention to detail to be exemplary. Understanding the balance between achieving best possible legal terms and reaching a settlement on all aspects of the transaction has frustrated many similarly well qualified individuals and the conveyancing process can fail as a result. I am always delighted when we have the opportunity to work together as he is very quick and willing to communicate with the advising surveyor. The keenness to involve other advisers including the agents in the process is particularly welcome to enable proper communication with our clients, thereby ensuring there are no unexpected surprises during the process."
"I found Charles at Peacocks to be very responsive, helpful and appreciative of the challenges facing small businesses with regards to costs and service. Very helpful and thorough. Thanks."
"I am elderly but previously I spent the majority of my life involved with practical and academic law.
Charles was introduced to me by the managing agent for my property and I was uncertain about the outcome. However my concerns were entirely unwarranted. Charles is an excellent lawyer with outstanding legal knowledge. He has a remarkable gift to get to the root of any problem. Where needed, he could resolve difficulties swiftly and was always available. Perhaps due to age or temperament, I am prone to panic. Charles was unfailingly understanding and sympathetic to my worries. His advice was always sound, despite difficult circumstances. I am very relieved that I followed his guidance.
I have no reservations whatsoever in recommending him to future clients."
Please contact Charles Hylton-Potts using the details below: